How do they do it? How do bloggers, and models pull off those insanely stylish looks so effortlessly? A lot of these models have stylists and some of them have just done it so long that it really is easy for them. But like everything, it takes study and practice. And I've got the tips for you to start dressing like you're on your way to a Gucci show and you just got snapped by a street style photographer. I've noticed a lot of things, these street style stars have in common, so we're going to decipher a few looks so you can start implementing them into your own style strategies! Let's get started! And don't worry, you don't have to be a tall slim model to own these looks!
Street Style- emerged not from magazines or industry but from grassroots streetwear. Street style is often associated with youth culture and is most common in urban cities. 
#1 Mixing Style + Athletic Wear
With that in mind, it's important to note that a lot of young adults are often sporting sportswear. Athleisure, or wearing athletic wear in daily life is a big trend that has emerged around ten years ago with the boom of gym culture and designer brands collaborating with athletic brands. With that in mind, it is common to see street style stars mixing more trendy stylish pieces like quilted Chanel or Chanel inspired handbags, leather jackets, with track pants, sweatpants, and or sneakers. Being comfortable and looking good is the epitome of effortless style.
#2 Sunglasses
In almost every street style look, I have found one thing in common, Sunglasses. Something about completing the look with a hot pair of shades really brings that cool factor to any street style look.
# 3 Creative layering
When you think of a typical put-together outfit, you think of starting with jeans and a t-shirt then you add a jacket and boots. It's classic, it's cute, but it's safe. And one thing a street style star is not is safe. So get creative with how you layer your clothing. Pair a turtleneck with a trench coat, wrap a blanket scarf over your shoulders then belt it all together. Layer a dress over jeans. The trick with creative layering is to make sure it does not swallow your frame and is not overly baggy and wrinkled looking. Oversize can be a cool look, but like I said don't overdo it. Things, like layering a t-shirt over a turtleneck, a t-shirt under a slip dress and layering a cropped vest over a longline cardigan, are a few other ways you can take layering up a notch.
#4 Boxy silhouettes
One thing I love about street style is all the boxy silhouettes. You will more often than not see a street style star rocking something boxy rather than tight. Boxy coats, boxy dresses, boxy bags, clunky shoes, and I love it. Something about dressing in more geometric fits gives off a more high fashion vibe than items that cling to the body.
#5 Bold Colors
Street style stars are always making a statement in bold saturated colors. A lot of people like to veer away from color but there's really nothing to be afraid of. Color is fun! Popular ways for street style stars to wear color are in fun bright pops like a bright sweater, shoe, or handbag. A statement coat, color blocking or wearing chops of different yet cohesive colors in one outfit, or straight up wearing one color head to toe are other ways to rock hues.  See below all the fabulous citrus flavored looks as examples.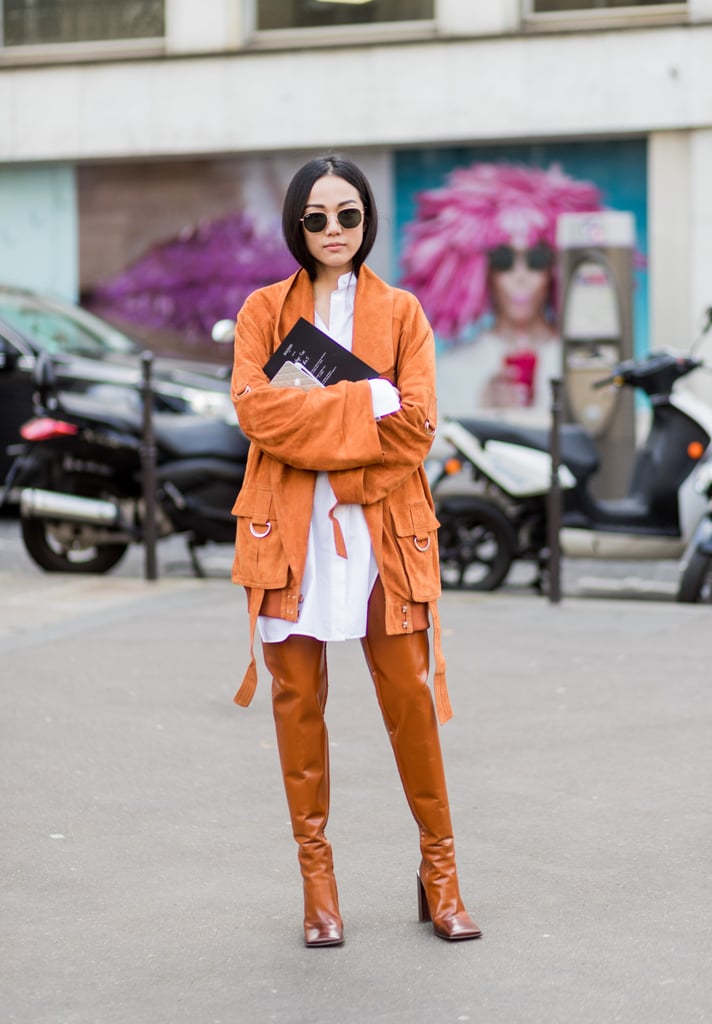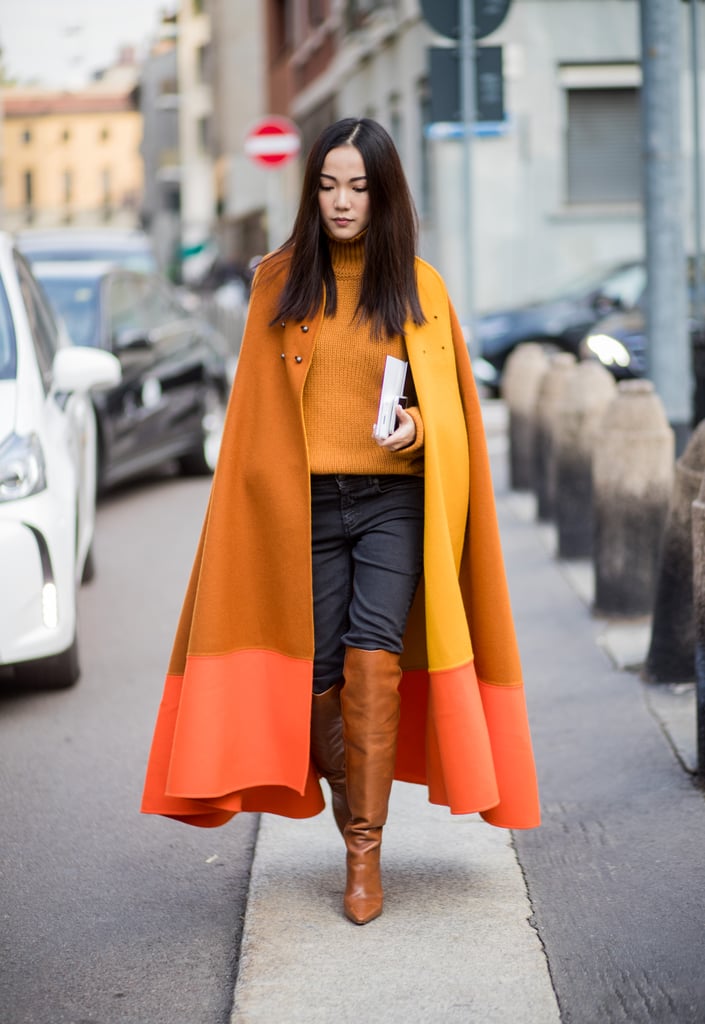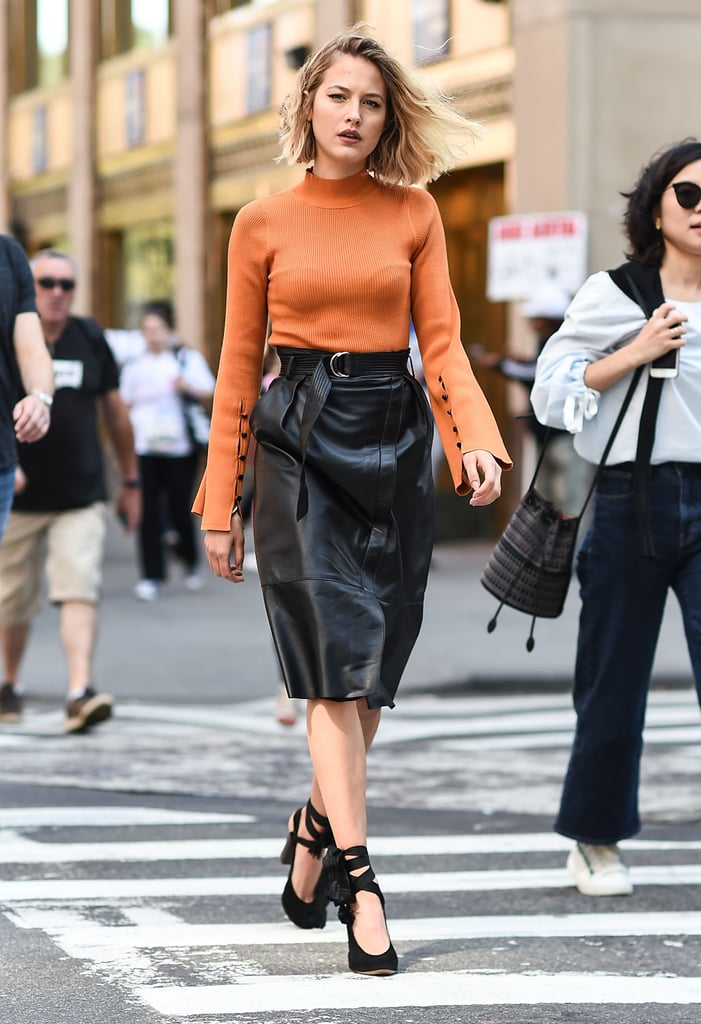 images via Popsugar
Street Style Stars take risks and are daring in their fashion choices while still remaining chic and nonchalant.
#6 Mixing proportions
In addition to creative layering, creative proportions are also a big thing amongst street style stars. Tricks like mixing high waist wide leg pants with bralettes, or chunky turtleneck over a longer button down blouse with tight thigh high boots.
#7 Expensive and well-made clothing
It's no secret that street style stars a lot of times are wearing designer pieces and that these pieces are often gifted or borrowed, but its true well-made clothing helps make your outfit look luxurious, and unique because you obviously won't see a lot of people wearing the same Alice + Olivia dress. However, you don't have to spend a lot of money to look good. Everyone knows this. But the trick when shopping is to make sure that you pick your items selectively. Examine the fabric quality and stitching, and if the garment in question has a lining.
#8 Proper Fit
It's also important to make sure your clothes fit you properly. We already talked about rocking exaggerated silhouettes on purpose, but now we're talking about making sure you're not wearing wrinkly t-shirts, pants that bunch and bag up. Make sure your clothes are ironed if they need ironing, there are no stains, they aren't too tight squeezing you like a sausage casing or don't swallow you like you're trying on your father's suits.
Recommended Reading: How to look Stylish in a Sweatshirt 
#9 Details
Don't you just love those street style shots detailing the gorgeous accessories of the outfit? Sometimes it's the finishing touches that really make a statement. Snakeskin booties, a purple mini bag. If you're going to wear something simple like jeans t-shirt and a trench coat, wearing patterned booties with matching OR a  contrasting handbag will give you that street style edge.
#10 Jackets and Statement Coats
I love jackets and apparently so does the street style crowd. Another outfit maker is wearing an edgy jacket or statement coat like I kinda talked about earlier. Depending on what kind of coat/jacket you pick you will definitely look extra (hello fur coat) but that's what you want of course.
In conclusion, Street style stars don't wear what us every day people wear, well technically they do, just not during fashion week! But that doesn't mean we can't steal some of their tricks to make our everyday lives a little extra fabulous! Be that girl who dresses up for class or in a casual work environment. Don't be afraid to dress how you want and wear what you want whether or not other people are too or if you have a fancy occasion to wear something to or not. Street style stars go extra so they can get snapped by street photographers, but whether the camera's on you or not, you'll definitely be in the spotlight and feeling fine with these tips!
I hope you enjoyed this guide to dressing like a street style star and look out for an ultimate guide coming within the next couple months too!
Recommended Reading: Easy Effortless Stylish Outfit Formula