Welcome back to ZoeVogue!
September was an exciting month with all the designers showcasing next spring's looks on the runways. Fashion week brought some incredible looks. You guys can check out my Pinterest board to see all my favorite looks from New York, London, Milan, and Paris.
Although it's very exciting to see what designers bring to the runway, one of my favorite things about fashion week is the street style.   It's always inspiring because people are usually bolder during fashion week so it's really fun to see what kinds of silhouettes or patterns or delicious new accessory the fashion show-goers are going to be sporting!
Using outrageous fashion week street style can be a great source of inspiration for building your wardrobe and creating a unique personal style. You can take things you like about the outrageous looks and incorporate them into your everyday life, or if you're bolder, why not just go for it; be bold and wear a bright blue monochrome suit or a big fur coat!
Read on to discover how to take your style to the next level with these street styling tips!
Wear your jacket with one sleeve off the shoulder
Fashion isn't always the most practical, so always be conscious of the weather, but I give this trick two thumbs up because it really takes the stuffy winter jacket vibe and gives it some oomph. Let's be honest, if you're being a little impractical with your outfits to make it look good, you definitely a fashion girl.
source: popsugar
Combine a feminine dress with edgy shoes
Take a cue from Aimee Song, and mix and match edgy with feminine to help transition your summer dresses to fall.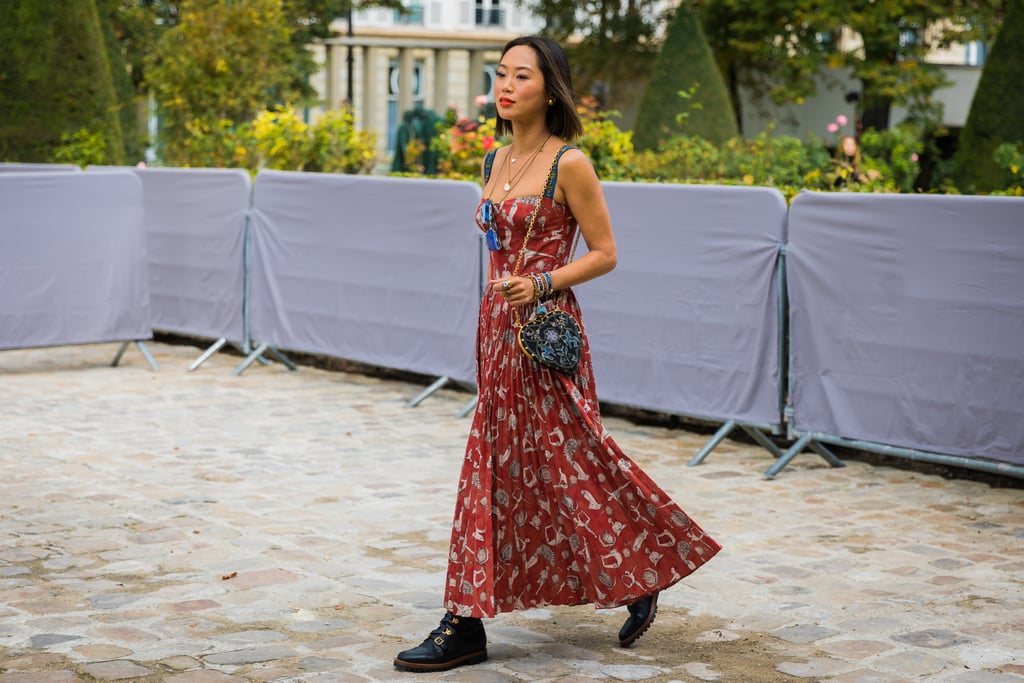 source: PopSugar
Pair a Sweatshirt with a Feminine Skirt
Putting together two items that seemingly don't go together is always a great risk to take when it comes to fashion. Taking a cute but casual sweatshirt with something a little more dressy with breath new fashion life into your style!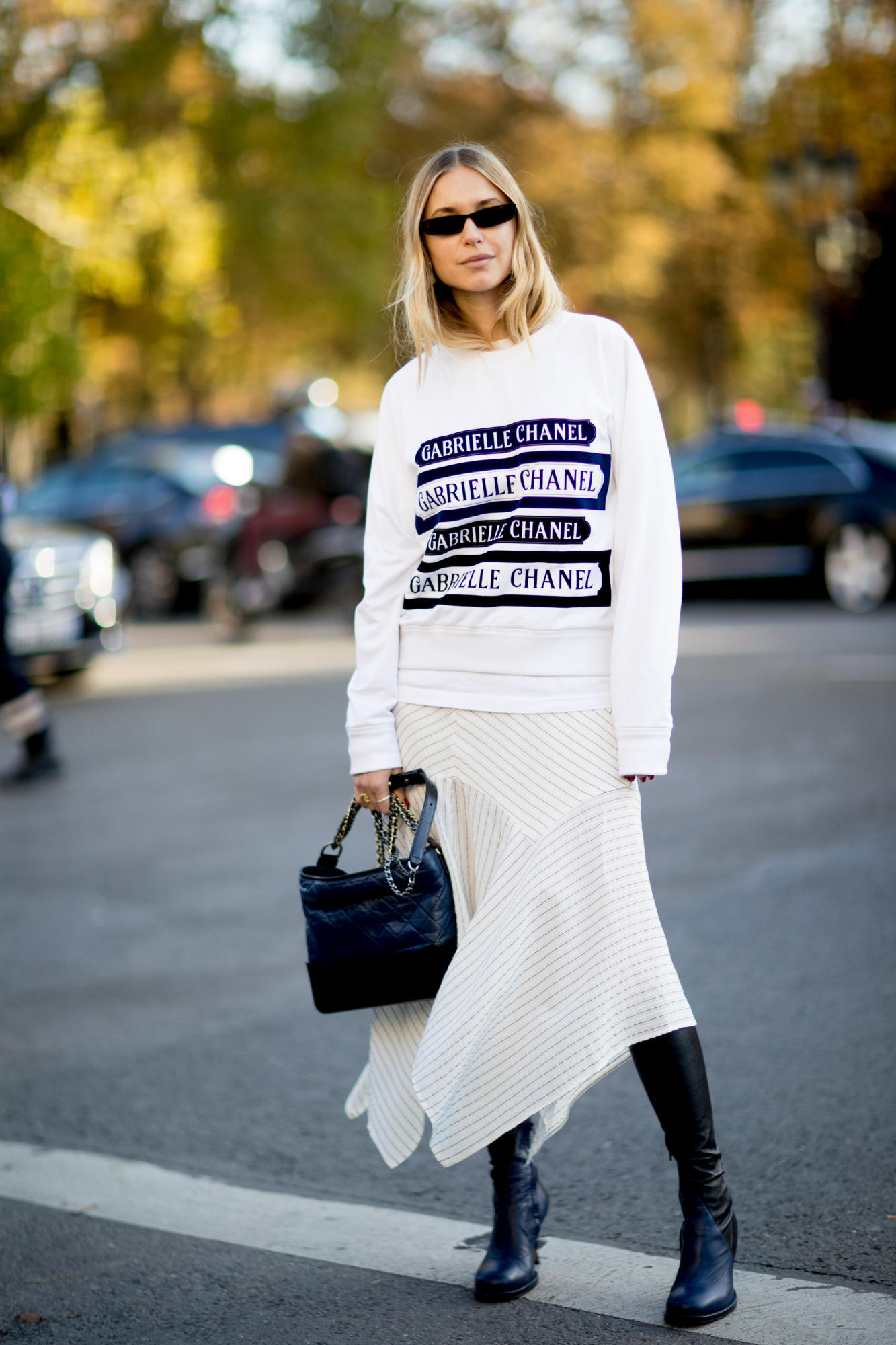 Tee Shirt and Jeans
Sometimes you can't go wrong with combining a white tee, black jeans, and a denim jacket. Fall is the perfect time to bring out black denim, plus they have a chicer vibe than blue denim, but you can still keep it casual with the jacket. To take it to the next level, add a red lip and chic bag.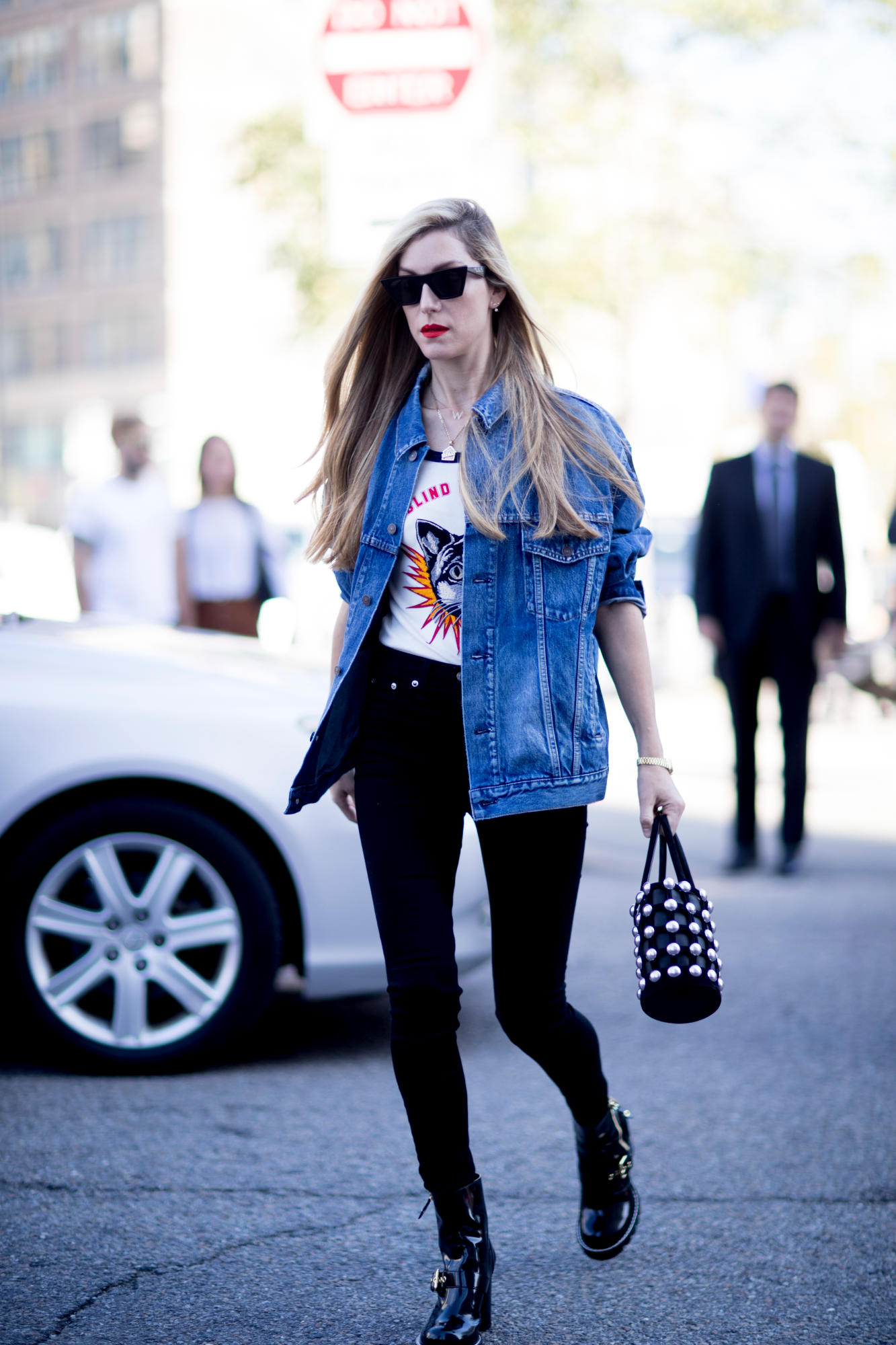 All Black
Monochrome, or wearing all of one color is huge among fashion people, but if you're not a fan of color, wear an all-black look and make your statement color white like with some cute booties. Balance a fitted long dress with a looser bomber jacket to add interest to an outfit with just one color.
Color Monochrome 
A monochromatic look, especially in a bold color like Red is a great way to look sophisticated and chic. If you noticed, there was a lot of unintentional red in this post, because red is a HOT color this fall and if you need to upgrade your look, that's the color I'd recommend.
source: popsugar
Wear your dress over jeans
A great way to either restyle your dresses or jeans is to wear them together. Experiment with what looks good together and when you find that perfect pair issa combo!
Match your fur with your top
When in doubt with what to pair with a funky fur coat, go with a top that is the same color as it. This creates a very fashion-y vibe to your outfit as monochrome looks come off as very chic.
More of this look HERE